Please welcome our new 2023 Trainees!
Congratulation to our recent T32 trainee graduates: Mackenzie Chapman Imhoff & Clinton Gabel.
The annual Hitchhiker's Guide to the Biomolecular Galaxy Symposium for 2023 was held on Tuesday, May 16th, and Wednesday, May 17th. The Keynote Speaker was Jay T. Groves.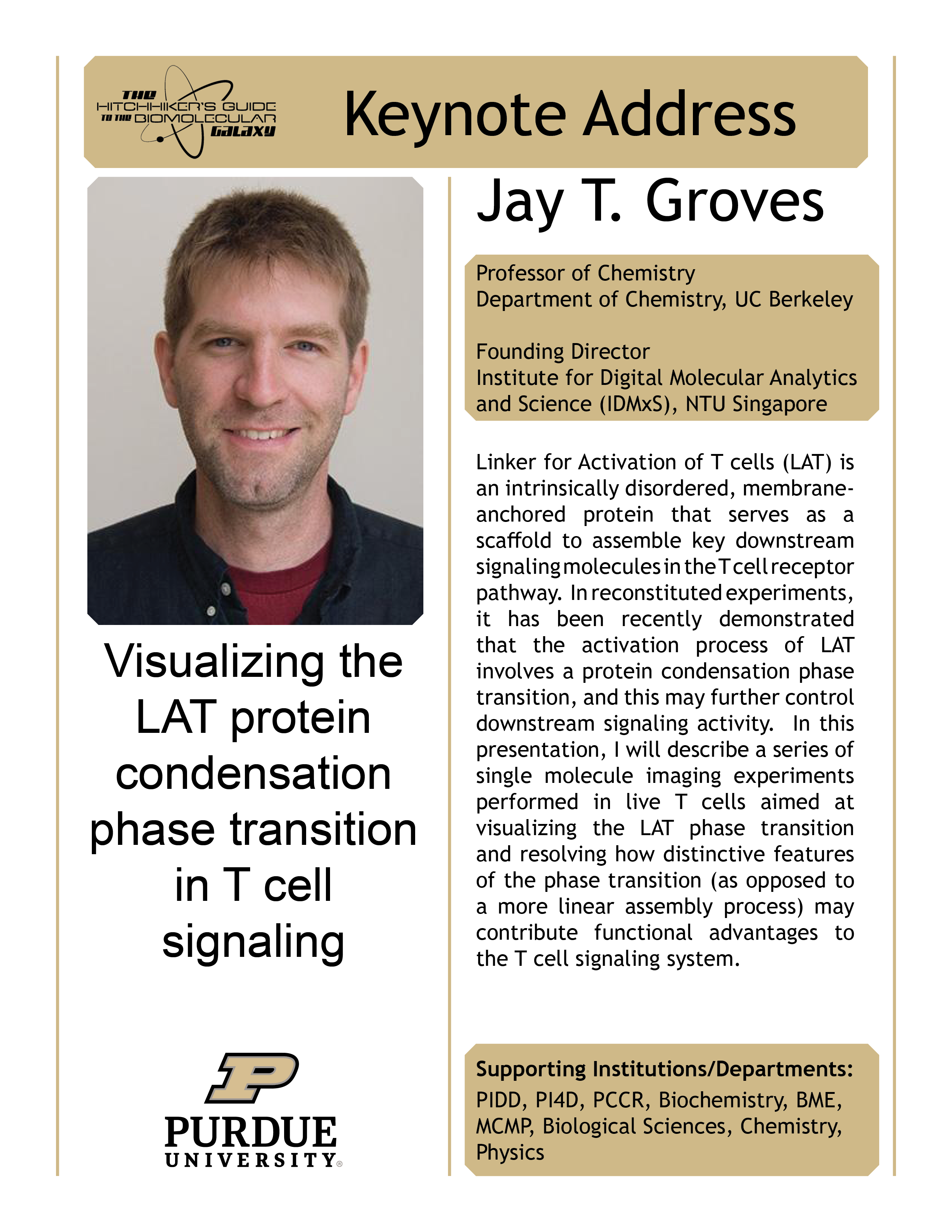 The Purdue Molecular Biophysics Training Program (MBTP) reflects our recognition that in today's economy, jobs requiring science and engineering skills are increasing. The biotechnology industry is one of the fastest growing sectors in the U.S. economy, with revenues from biologics, bio-industrial products, and biomedical devices growing over 10% annually, and employment growth projected to increase by over 20% in the next 6 years. This boom would not have been possible without an atomic understanding of macromolecules achieved through the use of biophysics. Employers in these areas require a diverse workforce with a broad range of skills, including molecular biology, protein science, biophysics and device manufacturing. Thus, there is growing demand for well-trained, multidisciplinary biophysics-focused scientists.
The Purdue MBTP will provide trainees a biophysics-focused research environment geared towards different professional career tracks, with an emphasis on developing the skills required for effective teamwork with diverse networks of collaborators. The program is expected to augment the experience of all students at Purdue interested in biophysical careers by establishing new courses, symposia, comprehensive seminar programs, and special topics career sessions.
Please accept our sincere apologies. Twitter's embed functionality has been intermittently out of service. Follow us here.